iPlates Volume 2 Part I: Alma In The Wilderness — Book of Mormon Comics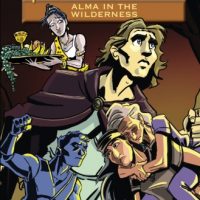 by Stephen Carter & Jett Atwood
Alma sits shivering in the wilderness outside the city of Shilom. That morning he had been one of King Noah's priests, living a sumptuous lifestyle and wielding great power.
But then a lone prophet named Abinadi had preached to the king's court and changed Alma's heart. When King Noah decreed Abinadi's execution, Alma tried to defend the prophet, but barely escaped with his life.
Fortunately, Alma meets Gideon, a man who heads a group of revolutionaries dedicated to overthrowing the king. Gideon is intrigued by Alma's message and decides to help him.
But then Sybil, a woman Alma had known at the palace, emerges from the forest. Is she a spy from the king, or an honest seeker of truth?
Meanwhile, the Lamanites are about to launch a surprise attack on Shilom. The king, along with most of the men, will abandon the city, and Zerin will find herself leading a desperate attempt to save the women and children.
Perfect for any family in the Church of Jesus Christ of Latter-day Saints.

(The story is based on events in Mosiah chapters 12 and 13.)
---
BOOK DETAILS:
iPlates: Volume 2: Part I: Alma in the Wilderness: Book of Mormon Comics
List Price: $9.99
6.75″ x 10.25″ (17.145 x 26.035 cm)
Black & White Bleed on White paper
52 pages
ISBN-13: 978-1497546493
ISBN-10: 1497546494
BISAC Codes: Books / Christian Books & Bibles / Mormonism
BISAC: Religion / Christianity / Church of Jesus Christ of Latter-day Saints
BISAC: Comics & Graphic Novels / Religious
At: Comic Con, September 4-6, 2014.
---
Samples:
FOR SAMPLES AND INFORMATION You can also visit the Blog at iplates.net
LISTEN to the interview done by Nick Galieti on "The Good Word", a radio podcast sponsored by Radio Gold Productions, Custom LDS Scriptures and Eborn Books by clicking on this LINK.
---
Purchasing:
NOTE: This volume is now combined with 2.2 and a third unpublished part of the volume 2 series in the iPlates Volume Two Complete version

We are selling the remaining inventory at closeout prices. Price only good until stock is gone.

Purchase here by using PayPal for the INTERNET SPECIAL PRICE of $9.00 + $2.99 (shipping) + Maine Sales Tax of 6.85%

Check out VOLUME ONE
Check out VOLUME TWO PART 2
Check out VOLUME TWO COMPLETE (Volume 2.1 + 2.2 + the unpublished until now 2.3)
---
This book is available from the following resellers:
---
Authorized Bookstores and Resellers
If you are a bookstore or other reseller and wish to carry this title, please contact us directly.
You can order directly from us with full return policy and standard trade discounts by email. A purchase directly from us will get you listed on this page (above).
 A Publication of