iPlates Volume 2 Part II: Gideon's Revolt — Book of Mormon Comics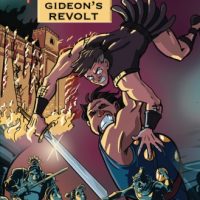 While evading Noah's spies, Gideon and Alma launch a daring revolution to overthrow the tyranical king.
But a Lamanite army is advancing toward Shilom. Will Zerin be able to save her mother from the doomed city? Can Sybil warn Alma's converts in time?
Packed with action, laughs, and inspiration, iPlates brings pure Book of Mormon awesomeness to your home.
Perfect for any family in the Church of Jesus Christ of Latter-day Saints.
This comic book is based on Mosiah 18-19.
---
Product Details:
6.75″ x 10.25″
(17.145 x 26.035 cm)
Black & White Bleed on White paper
66 pages
ISBN-13:
978-1500885137
ISBN-10:
1500885134
BISAC:
Comics & Graphic Novels / Religious
---
Samples:
FOR SAMPLES AND INFORMATION You can also visit the Blog at iplates.net
LISTEN to the interview done by Nick Galieti on "The Good Word", a radio podcast sponsored by Radio Gold Productions, Custom LDS Scriptures and Eborn Books by clicking on this LINK.
---
Purchasing:
---
OTHER VOLUMES FOR iPlates:
---
Authorized Bookstores and Resellers
 A Publication of